I figure that overkilling Dark Guitar Maniac by 58 000 on my first attempt means I'm allowed to take a break from SCGMD4 and update this.
Mary woke up refreshed, feeling good pitting evil against evil, and decided to talk in the third person to make this sentence easier.

For those of you unable to tell, yes, that is a picture of Mary waking up refreshed and feeling good about pitting evil against evil.
Also, I'm walking into Cherrygrove, and yes, that is important.

Now, the rule about Pokémon of the same gender not sharing a Pokécenter is a tad ambiguous, so, my personal interpretation, designed to be as harsh as possible: once a Pokémon of one gender uses a Pokécenter, they are the only Pokémon allowed to use that Pokécenter. Ever. I'm also changing the rule slightly and saying that only 'married' (Pokémon who have mated) Pokémon may share a Pokécenter. Oh, and yes, Pokémon mate for life in my run. So this center is exclusively Abraham's (the nickname I gave to my Cinderquill) until he reaches level 22 and has sex with another Pokémon.
Now, back to the story, as that's what this is meant to be about. Or something. I don't know at this point.
Out of curiosity, I talk to the athiests (but probably not witches, that term is reserved for only the truly evil), and learn a shocking truth.


These people do not realise that following the athiest witches costs them their SOULS! At the point, I vow to climb to the top of the athiest witch organisation and bring it down from the inside, and guide these people to the TRUTH. But where to find the athiest witch leader, where to find him?
Oh, and I suppose I should heal Abraham, I trust him to be strong enough to resist the evil side-effects of the sato-demonic healing device.
You would like that, wouldn't you? YOU'LL NEVER TAKE ME ALIVE!!!
I buy some Pokéballs, and go out looking for a second decent Pokémon. All there are around here are Caterpie and Weedle *makes a funnier reference to my RP character than Cracked Atlas did in his rather amusing Yellow nuzloke that you should all check out after you finish reading this*. The radio assures me that there are Pidgey here, but I find none. After what feels like twenty non-Pidgey encounters, I start taking screen shots to prove my point, and guess what?

It's not enough images that it's a hilariously long overly-long joke, and it's not few enough images that I can hilariously fail at making an overly-long joke. It's almost as if the RNG knows what I'm planning on doing with the images and is determined to crush any attempt at a cohesive Let's Play.
However, I make the best of the situation, and before I know it,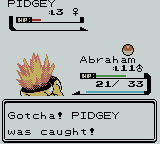 Btw, I meant that in the literal sense, I'm pretty sure the RNG generates the numbers before the ball finishes shaking, so Pidgey was literally caught before I knew it.
Also, Catholicisim is traditionally deterministic, so from a philisophical standpoint everything's set in stone before I know it.
But enough of that, I need a good Catholic name for my Pidgey.
I draw my inspiration from VeggieTales.

I heal her up with a berry I collected earlier, I have a lot of those by this point.

I've seen a lot of weird times but... why is that berry scowling at me?
This is the first trainer of note I have encountered. I suspect he has had training from dark forces. Why? He has four Pokémon. FOUR IS THE NUMBER OF DEATH!
10 Pidgey tackles, three Caterpie tackles, and three Weedle Poison Stings later, he goes down. I'm wondering about these Pidgey IVs, I know that gen two females had lower IVs on average, and I just have to wonder.
Seriously, look at her health-bar after killing four level three bugs
Also, it turns out that demons can smell blood...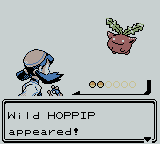 Seriously, tell me that thing's not a demon. LOOK AT ITS FACE!


IT USES ATHIEST WITCHCRAFT TO HEAL ITSELF
Naturally, I slaughter the thing, and from now on, Hoppip must be killed as though they were Legendary Pokémon.
I claim the Pokécenter in the next town as Esther's.



...okay, it turns out that Pokémon get healed simply by being put in the box. Uh, I guess that the 'Pokémon of the same gender' rule will have to apply to boxes too, or this'll get too easy.
I wonder the town for a little, and... Oh dear

This promises to be awkward.
CLIFFHANGER ENDINGGGGGGGGGGGGGGGGGGGGGGGGGGGGGGGGGGGGGGGGGGGGGGGGGGGGGGGGGGGGGGGGGGGGGGG!
Actually, I just wanna get back to SCGMD4.