Entry 2: Sex, Drugs, and Pokémon. (The following LP may not contain all of those things.)
Back on the road, travelling to... I dunno, the next bloody town. Cerulean! That's the one.
Engsoc badge in hand, I continue on my way.
Now, I'm no Christian, but frankly...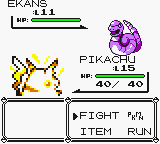 That looks pretty demonic, does it not? Actually, with these damn Gen I sprites, everything looks demonic. Even Blue. Especially Blue, come to think. I wonder if he's Satan?
Awesome, my Nidoran, Ezekiel, is evolving!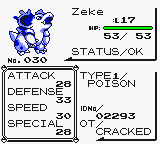 Oh... Zeke's a chick? Uh... I'm going to go with saying that Zeke's transgendered. Y'all can believe that, right? Right?
Moving right along, I soon find myself in the dreaded, the horrifying, the CAVE OF INFINITE ZUBAT!!!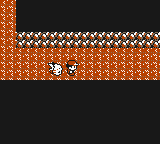 For gamers everywhere, hell will look like this. And to make things worse...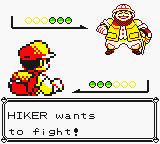 I get attacked with a man with a neckbeard, who I assume is a paedophile. Then,
Uh, this is what Team Rocket look like in Gen I? That's fucking terrifying. Like, he seriously looks like he's going to fuck me up with that whip. Then rape me. Then rape me with the whip. Could this cave get any worse?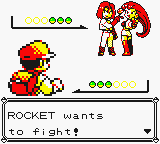 GOD DAMNIT, ANIMEFAGS! Ugh, /now/ things can't get any worse.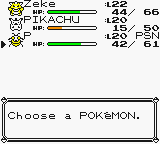 Oh I just had to say it, didn't I. My precious 'P'. Poisoned. I make a mad dash for the exit of the cave, praying I get to a Pokécenter in time.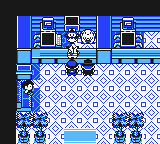 Which, thankfully, I do.
Now that my horrific incident of terror is over, time to stock up on supplies.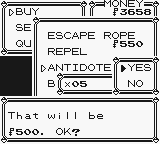 Lot's of supplies.
Exploring the town, I come across a woman giving away a Bulbasaur.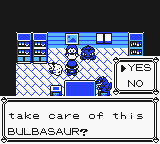 Apparently someone left it, half dead in Viridian Forrest after it had been eaten by Cater... Actually, fuck it. I've already made that joke/reference.
I head back West to check out the patch of grass next to the CAVE OF INFINITE ZUBAT!!!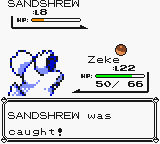 Everythingturnedoutbetterthanexpected.
I head back to town to heal Dusty up, when suddenly,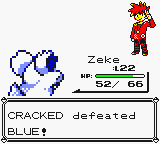 Why if it isn't Satan himself.
Needless to say, I thrash his ass.
Do do do do do do...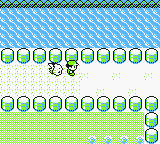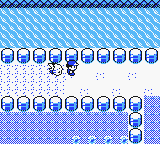 Hey... what smells like blue?
Anyway, back to grinding.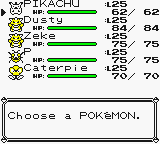 Ugh, that was a chore.
Next port of call, the Nugget bridge.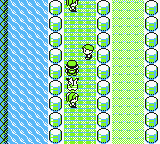 Shame I can't Mew glitch.
In the patch of grass next to the Bridge I find a Pidgey, which is cool.
Then directly above that area, a guy gives me a Charmander. This kinda dissapointed me, because the Pidgey was the first 'mon I encountered in the area. But then I checked Bulbapedia, and found that they're actually 2 different Routes. Hooray!
Let's go crash some castles.
A bit more to the East I find a man who's turned himself into a Pokémon and needs my help to fix it.
Wait... what? Fuck this, I'm going back to town.
Oh look sweet, an item.
Ah shit!
Okay, enough of this bullshit. I need to do something calming. Like... visit a strip club.
I mean, I think that this is a strip club.
Yep. Definitely a strip club.
I find who I assume to be the best stripper in the club...
See, she knows what she's doing.
I ask her for a private dance, if you get my meaning. Apparently she's into some weird BDSM role playing stuff...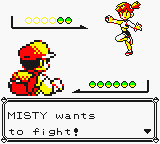 But that's okay I guess. We 'fight' for a little bit.
Wha-? Okay, I admit, I don't have much experience with this sort of thing, but I thought I was meant to pay her. I guess I'm just that good.
Except I'm meant to be 10.
Oh shit. I think I need an adult.
Uh, 'till next time, I guess. I'm off to find a nice, friendly FBI agent.